Day 2 :
Keynote Forum
Bangladesh University of Engineering and Technology (BUET), Bangladesh
Time : 09:30-10:10

Biography:
Md. Abdul Jalil received his B.Sc. in Civil Engineering in 1986 from Bangladesh University of Engineering and Technology (BUET). He obtained his M.Sc. in Civil Engineering in 1988 specializing in Environmental Engineering from the same university. He received his PhD in Civil Engineering in 1993 from Tokyo University, Japan under Asian Development Bank Scholarship. He conducted post-doctoral research on water management in Loughborough University, UK under Commonwealth Fellowship during 2005-2006. He was appointed as a Lecturer in the Department of Civil Engineering of BUET in 1986 just after his graduation. He was promoted to the post of Assistant Professor in 1989. He became an Associate Professor in 1996. He was appointed as a Professor in 2001. He has published over 40 papers up to now in international and national journals, proceedings of conferences and seminars. He presented a number of papers in home and abroad. He has worked a member of different committees of national organizations. He worked in a number of national and international research projects. He also works as a consultant and completed over 50 important national development projects.
Abstract:
The results of two sets of laboratory experiments on biogas generation from the wastes of a rural vegetable and cattle market of Bangladesh under daily feed condition at ambient temperature are reported in this paper. Only the easily biodegradable wastes were used as the feed for biogas production. Cow dung, fish waste, ginger, cursed lobe, guava, and banana leaf were found to be the major biodegradable wastes of the market. Daily average composition of the wastes was used in the experiments. The total solids (TS) and volatile solids (VS) of the biodegradable portion of the market wastes were 24.06% and 18.28% respectively. The experimental setups were placed in a large closed chamber and were operated at ambient temperature as controlling temperature within a bioreactor at rural set up is very difficult. Daily feed reactors were used in the experiments. The solid wastes were cut to small pieces (less than 4 mm in size) for use in the experiments. In the first set, 750 g waste was initially placed in a 2.5 L reactor and inoculum was added to make the effective volume of 2.1 L (single chamber reactor). In the second set, two digesters each of 1.5 L volume were connected in series near the bottom to have a double chamber reactor. It was initially fed with 750 g wastes (350 g in each digester) and inoculum was added to make the effective volume of 1.3 L for each digester. Both the reactors were operated for 40 days. Considering the hydraulic retention time as 40 days, from the 2nd day of operation, the single chamber reactor was fed daily one time with a mixture of 18.75 g waste and required volume of tap water (natural groundwater) to make the total volume of 52.5 mL after dispensing equal volume of slurry from the reactor through the outlet. For the double chamber reactor, the daily feed consisted of a mixture of 65 mL consisting 18.75 g waste and 47.5 mL water. The first chamber of the reactor was fed daily with this mixture once after taking out 65 mL slurry from the second chamber. The daily temperature within the enclosed chamber was measured with a thermometer and the daily biogas production was measured by water displacement method. During the experiments, the temperature varied from 19 to 27oC and it did not affect the rate of biogas generation. The results of the experiments revealed that the general trend of gas production was similar between the two reactors. There was basically no significant differences in the gas production trend and quantity of gas between the inlet and outlet chambers of the double chamber reactor. The stable rate of biogas generation was 0.25 m3/m3/d for the single chamber reactor at the Organic Loading Rate (OLR) of 1.63 g VS/L/d and 0.20 m3/m3/d for double chamber reactor at the OLR of 1.32 g VS/L/d. The stable biogas generation was same for both the reactors in terms of organic loading and it was 0.15 m3/kg of VS added.
Keynote Forum
Geetanjali Envirotech, India
Time : 10:10-10:50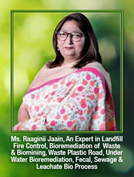 Biography:
Raaginii Jaain is a Swachh Bharat Mission National Expert Empaneled by MoUD – having more than 3 decades of experience in recycling of solid waste, plastics, BOPP, PET, Green Toilet Technology, Infrastructure &Utilities in Sanitary facilities, sewage treatment plant, environment improvement and waste management is a social environmentalist, an entrepreneur, a consultant to various private sector entities/enterprises and Public Sector Undertakings. She is CEO & Founder of Geetanjali Envirotech, a waste-management centre Mumbai based also India's first private-public partnerships (PPP) model for plastic waste collection, segregation and recycling.
Abstract:
Our rapid bioremediation process through the usage of GE bio-culture on fresh waste and old waste stabilizes the waste faster with 40% reduction in volume and with near-zero emission of harmful gases into the atmosphere and no leachate (A leachate is any liquid that, in the course of passing through matter, extracts soluble or suspended solids, or any other component of the material through which it has passed). The contamination of soil and groundwater from leachate is hence prevented. Though there have been earlier attempts at bioremediation, our method of bioremediation has been found to be the most effective. This process yields 100% land recovery even at overfilled dumpsites after bio-mining and is sustainable and hence can be replicated in dumpsites of all sizes.
Keynote Forum
NSF Center for Resource Recovery & Recycling, USA
Time : 10:50-11:30

Biography:
Brajendra Mishra is the Kenneth G. Merriam Distinguished Professor of Mechanical Engineering and Director of the Metal Processing Institute at the Worcester Polytechnic Institute [WPI]. Dr. Mishra is the Director of the National Science Foundation's Industry/University Collaborative Research Center on Resource Recovery & Recycling. Brajendra received his Bachelor of Technology degree in Metallurgical Engineering from the Indian Institute of Technology in Kharagpur, India and his M.S. and Ph.D. in Materials Science from the University of Minnesota in Minneapolis. Prior to joining WPI, Prof. Mishra was a Professor of Corrosion and Physico-chemical Processing in Metallurgical & Materials Engineering at the Colorado School of Mines [CSM] where he now serves as a University Emeritus Professor. Dr. Mishra has over thirty years of research experience in materials recovery and recycling, molten salt pyrometallurgy and electrochemistry and has many contributions to the application of these technologies to materials development and processing. Dr. Mishra has authored over 500 technical publications in refereed journals and conference proceedings. He holds thirteen patents and has authored/edited 20 books. Dr. Mishra is a member of TMS, ASM International, and NACE. He is a Fellow of ASM (2001) and TMS (2016). Mishra received the Distinguished Service Award from the Minerals Metals & Materials Society (2010) and the highest award of Honorary Membership from the Indian Institute of Metals (2008). Brajendra served as the 2006 President of The Mineral, Metals & Materials Society (TMS) of AIME and the 2011 President of Amer. Institute of Mining, Metallurgical & Petroleum Engineers. Dr. Mishra received the Presidential Citation of AIME in 2015 and the Kenneth Andrew Roe Award from AAES (2016).
Abstract:
Metals and materials production from primary sources, such as ore, are highly energy intensive, expensive and environmentally unfriendly. Materials are non-renewable and, therefore, their supply is limited. Post-consumer as well as manufacturing wastes are valuable secondary resources. Most structural and functional materials used today, can be reprocessed and put back into service at a much lower cost and energy consumption through conscious recycling and recovery programs. Most production wastes, such as mineral processing tailings, mechanical processing swarfs and solid pyrometallurgical processing effluents, as well as, post-consumer wastes from the aerospace, automotive, energy-storage and electronic industries, present tremendous opportunities to improve resource productivity. In order to ensure secure materials supply and attenuate supply-demand imbalance, it is of utmost importance to look at opportunities to recycle and reuse from secondary sources. This presentation will describe the technological developments made to convert these valuable resources into functional manufactured materials for industrial applications.